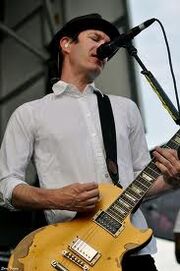 Thomas "BroundTom" Thacker is the co-lead guitarist, keyboardist and backing vocalist for Sum 41 and lead vocal and lead/rhythm guitarist for Gob.
Thacker started God with Theo Goutzinakis in 1993. They have since released nine albums.
In 2006 Thacker was announced as the new touring lead guitarist for Sum 41, he also played keyboards and was also a backing vocalist. In 2009 he became an official member of the band. Even if he was an official member of the band when their fifth album he did not record any guitar for the album only keyboards. In 2015 when former lead guitarist Dave Baksh returned to the band he became a co-lead guitarist.
Discography
Edit