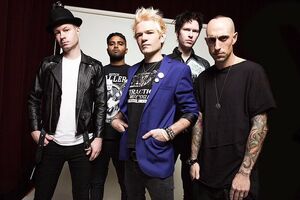 Sum 41 is a Canadian punk-rock band from Ajax, Ontario. The current members are Deryck Whibley (lead vocals, rhythm guitar), Jason McCaslin, (bass guitar, backing vocals), Tom Thacker (co-lead guitar, keyboards, backing vocals), Dave Baksh (co-lead guitar, backing vocals) and Frank Zummo (drums, percussion).
Since signing an international record deal with Island Records in 1999, the band has released four studio albums, one live album (under two different titles), two live DVDs, more than fifteen singles, and sold over 10 million albums worldwide. It is reported that the band performed more than 300 times in a single year which is why they have become famous for their long and global tours, often lasting for more than a year.
Beginnings and Half Hour of Power (1996-2000)Edit
The members of Sum 41 started out in rival bands in high school. They joke that they came up with their name after they met while attending a Hole concert 41 days into the summer of 1996. The Band was originally a NOFX cover band and named Kaspir, and changed their name to Sum 41 for a Supernova show on September 28, 1996. They were scouted by Greig Nori of Treble Charger at a Supernova show at the Opera House in Toronto on February 24, 1996. The current bassist, Cone, joined the band in 1999, after the band went through several other bassists. Cone claims the reason they were signed was that he had joined their band. In 1998 the band recorded a demo tape on cassette which they sent to various record companies in the hope of getting a recording contract, which is referred to by fans as Rock Out with Your Cock Out. These demo tapes are extremely rare and are the only recordings known with the original bassist Richard "Twitch" Roy, a copy of the tape has recently sold for $45 on Ebay.
The band carried a video camera with them to film their crazy antics including robbing a pizza place with water guns and performing a dance to "Makes No Difference" in front of a theater (both of which can be seen on both Introduction to Destruction and on some versions of the bonus DVD, called Cross Your T's and Gouge Your I's from Does This Look Infected?).
The band submitted the video footage along with their demo tapes to several record labels. Island Records, wanting to capitalize on the pop punk fad popularized by Green Day and Blink-182, signed Sum 41 in early 2000. The band decided to stay with Aquarius Records in Canada, as they were "the first label to show an interest in us and they got us our first Warped Tour dates, so we wanted to stay with them." [1]
Sum 41 released the EP Half Hour of Power on June 27, 2000. The first single released by the band was "Makes No Difference", which had two different videos. The first video was put together using the video clips (such as the band robbing a pizza place) sent to the record label and the second showed the band performing at a house party.
All Killer No Filler and Does This Look Infected? (2001-2003) Edit
Sum 41's first full-length album, All Killer No Filler, was released on May 8, 2001. The first single released was "Fat Lip", which became a huge hit during the summer, becoming the #1 rock song in the U.S. as well as many other countries around the world.[2] Performances on the Warped Tour during the year further increased the popularity of the band.
Two other singles were released. They were "In Too Deep", which had a comedy video of the band in a diving competition, and "Motivation", a simplistic video of the band playing in a classic garage band theme. The band toured for much of the year, playing 300 shows in 2001, including opening for Blink-182 on tour before returning to the studio to record another CD.[3]
On November 26, 2002, Sum 41 released their second full-length album, Does This Look Infected?. It was accompanied by a DVD with video footage that was not to be sold to those under the legal age. With this album, Sum 41 altered their style slightly, bringing in a heavier style, while keeping the smooth harmonies they had become known for. "We don't want to make another record that sounds like the last record," declared Whibley. "I hate when bands repeat albums." [4] The first single released was "Still Waiting", the video of which had them mocking "new-garage" retro-rock under the name of "The Sums" and was a parody of one of The Strokes' videos.
The band followed up the release of "Still Waiting", with "The Hell Song", a unique video of which had the band using dolls with their pictures on them and others, such as Ozzy Osbourne and Pamela Anderson. Their next single,"Over My Head (Better Off Dead)", had a video released exclusively in Canada and on their website, featuring live shots of the band. The video was also on their live DVD, Sake Bombs And Happy Endings (2003), as a bonus feature. It has also received limited airing on various music television stations in the USA and UK.
After extensive touring in support of the album, Iggy Pop recruited Sum 41 for his new album, Skull Ring. Deryck co-wrote the first single from the album, "Little Know It All", and joined Iggy on The Late Show with David Letterman to promote the song. Iggy said he chose Sum 41 "because they have balls."
Chuck and the Congo (2004-2006)Edit
In early 2004, the band contributed to the first Rock Against Bush album by recording the song "Moron", which was also a bonus track in the Japanese import of Chuck.
In late May of 2004, the band travelled to the Democratic Republic of Congo along with War Child Canada, a branch of the British charity organization, to document the civil war occurring in the country.[5] Days after arriving, fighting broke out near the hotel the band was staying at in Bukavu.[6] The band waited for the firing to die down, but it never did. A U.N. peacekeeper, Charles "Chuck" Pelletier (also Canadian), called for armored carriers to take the hotel's occupants out of the hot zone. After nearly six hours, the carriers arrived, and the band and the forty other civilians were taken to safety. The band named their next album Chuck in honor of Pelletier for taking them to safety. The documentary was made into a film called ROCKED: Sum 41 in Congo, and was later aired on MTV. War Child released it on DVD on November 29, 2005, in the United States and Canada.
Sum 41's album, Chuck, was released on October 12, 2004. It was a heavy album that had a much more serious tone, without the humour of the band's previous releases. The first single from the album (as well as the only song written after the Congo incident) was "We're All To Blame". The song switching from a fast pace to a slow one represented the band's trip in the Congo, how one minute it was peaceful, and the next there were gunshots being fired. The band followed up with "Pieces", a relatively soft song which reached the top of the charts in Canada, and "Some Say", released as a single only in Canada and Japan. The last single off the record was "No Reason", released at the same time as "Some Say", but with no video and only in Europe and the USA, where it reached #16 on the Billboard Modern Rock charts.
Sum 41 released a live CD, Happy Live Surprise, in Japan on December 21, 2005. The CD contains a full concert recorded live from London, Ontario and was produced by Deryck. The same CD was released March 7, 2006, in Canada under the name Go Chuck Yourself. This version was released under Aquarius Records instead of EMI, the band's former label in Canada. (The band had an issue with their producer and their management company, Greig Nori and Bunk Rock Music; since their management company had a contract with EMI, after the band left the company and dropped the producer, the contract was broken.) The Japanese version contained a CD with five songs from their live performance. It was originally to be a DVD, but the band was unhappy with the way the filming turned out and decided to put out a live CD instead. The footage is being incorporated into a project along with the rest of the film from the tour.
Following their September 11, 2005 show in Quebec City, Quebec, the band went on a touring hiatus, although on April 17, 2006, Sum 41 played at a tribute to Iggy Pop, joining Iggy on stage for "Little Know It All" and "Lust For Life".
Side projects, Dave's departure, and Underclass Hero (2006 - Present)Edit
On, May 11, 2006, Dave Baksh announced in a statement through his management company that he was leaving Sum 41 to work with his new band, Brown Brigade. Baksh's departure from the band was said to have been due to his desire to play music with a more classical metal sound.[7][8] He is the lead guitarist in Brown Brigade.
On May 12, Deryck made the first official comment on the subject on the official message board post addressing Dave's departure.[9] Deryck confirmed Dave's departure and announced that the band would only be replacing Dave with a touring guitarist, who wouldn't be in videos, photo shoots, albums, or have any decision-making power in the band.
During the band's touring hiatus, Deryck focused on his producing career, writing and producing two songs for Avril Lavigne's album, The Best Damn Thing. Stevo recorded his first video as director for a Canadian band called The Midway State, and Cone started a side project with Todd Morse of [[H2O]] and Juliette and the Licks. The two-person band, named The Operation M.D., released their debut album, We Have an Emergency, in early 2007. As well as playing bass, keyboards, and acoustic guitar, Cone contributed backing vocals as well as leading vocals on three songs.[10]. The Operation album was co-produced and mixed by Deryck Whibley. Their first single video, "Sayonara", was directed by Stevo.
On April 17, 2007, the band released a song on iTunes called "March of the Dogs". Although not a single, the band released it early because, according to Deryck, "the record won't be out until the summer."
Recording of the band's fifth studio album, Underclass Hero, began on November 8, 2006 and was finished on March 14, 2007. The album, backed by the first single and title track, "Underclass Hero", was released on July 24, 2007. It debuted at #7 in the United States, making it the band's highest chart position to date.
"Walking Disaster" became the second single from Underclass Hero. The music video for the song aired on MTV2 on August 20th, and it is available on YouTube.
The band began touring for the month of October 2007 with fellow Canadians, Finger Eleven across Canada. Die Mannequin would be opening, then Finger Eleven, then Sum 41 would close each show. A recent press release stated that Deryck Whibley had sustained a herniated disk, causing them to cancel the rest of their shows on the Strength In Numbers Tour with Finger Eleven. Dates will be rescheduled to a later date once Deryck has returned up to par. Both bands will return later to finish the tour together. Bassist, Cone, has stated that he can hardly get out of bed, due to the severity of the back injury. When Cone and Stevo were guests on Much Music, they revealed the cause of the slip disc to be a mix of jumping into the crowd and Deryck sitting down abruptly at Stevo's drum Kit during the final song of their Calgary Show, Pain For Pleasure. Deryck has recovered from his injury, and is currently on tour with the band across Canada.
Cone recently did an artist on artist interview with Slash of Velvet Revolver. They talked about Slash's experiences while in Guns N' Roses and his life now in Velvet Revolver. This was done as part of a MySpace project, and the interview was posted on MySpace in 3 parts.
Sum 41 re-commenced their Underclass Hero tour and started back out in the U.K. where they were touring with fellow Canadians Sound and Fury and a British band, Reuben. (They played 10 shows in Britan and then moved the tour to Canada)
It has been announced that Sum 41's next single will be "With Me." The video was first seen on the band's MySpace page on February 28, 2008 and debuted at number 7 on MTV's Total Request Live.
The band has plans to tour until the summer, when they will begin preparation for their next album.[11] The Band is touring through out Australia in April 2008, playing at the Big Top at Luna Park, Riverside At Brisbane, and in Perth with veteran punk outfits Pennywise and The Vandals as well as Bowling For Soup.
Internet videos
Edit
Touring in support of Chuck, Sum 41 played videos before their set which were deemed "unsuitable for children". Much controversy arose over the videos.[12] In one video, Basketball Butcher, which was also included in some versions of Chuck, Steve and Cone play basketball, and Cone beats Steve badly. Following the game, Steve murders Cone and later dismembers and cooks him. In another video, 1-800-Justice, Cone and Steve are drug dealing brothers, while Dave and Deryck play undercover police officers. Steve shoots Deryck, as Cone stabs Dave, and Steve and Cone make their getaway. Another video was "The Stache" Steve decides to grow out his moustache, but it turns out to be evil and makes him kill people while he's sleeping. After killing two people, the police come to his apartment. He decides to end everything and kill himself by jumping out a 5-story window. Cone, playing a policeman looks down at his body, turns around, and has a moustache.
Sum 41's most recent internet video endeavor is a "weekly" series entitled SUM 41 - Road to Ruin. The trailer was posted on January 8, 2007 on the Sum 41 web-page. The first episode debuted on January 21, following their exploits on their Singapore 2003 tour. Since then, their episodes have included footage of drunkenness in New Orleans, unintentionally setting off a fire alarm in a hotel, and a feature about their first ever tour manager, amongst other things. The "Road to Ruin" show can also be found on their MySpace, on YouTube, and on their official website. The "Road to Ruin" series is also available in an exclusive limited edition of the Singapore edition of 'Underclass Hero'. They also did a series of cartoons based on superhero 'stickman moss' who saved the world from anti punk figures, as they put the world of punk rock in danger. "Stickman Moss" would battle these threats with his stick powers being made entirely of wood. "Stickman Moss" was played by actor Steven Mars. A famous quote from an early episode stated "Sticks don't tan!".
Music style and influences
Edit
Early influence on their music included the Beastie Boys and NOFX, especially in their All Killer No Filler rap rock] music found in the "Fat Lip" and "What We're All About" singles. Their later music in the album Does This Look Infected? had heavy influence from The Offspring, as the band itself commented. Also, some metal influence coming from bands like Iron Maiden is noted. In the song "Fat Lip", the quote "Maiden and Priest were the gods that we praised" refers to Iron Maiden and Judas Priest. Their album Chuck features a series of songs that can be compared with thrash metal or Alternative metal, and they have named Metallica as one of the main influences on their metal music. The band has recently named The Beatles and Oasis as big influences.
The band's early musical style is often compared to Blink-182 and Green Day, owing to the catchy melodies and humor present in the work of both bands. The musical genre of Sum 41 has been disputed among fans because of the complex combination of different musical styles and much more mature, serious and heavy sound in later albums. Most fans agree that Half Hour of Power through All Killer No Filler was Pop Punk and Punk Rock, but Does this look infected? started moving towards a heavier, alternative rock and alternative metal, with Chuck being mostly alternative metal, and Underclass Hero a revival of the Pop Punk/punk rock genres. The argument is centralized around the punk streak of the band, and they have been labeled as pop punk[13], punk rock[14], alternative rock[15], and alternative metal. Some fans even argue that Sum 41 created a sub-genre on the album Chuck, known as Punk Metal. Their lyrics contain some influence and the band is known for its often politically-social music found in songs like "Fat Lip", "Over My Head (Better Off Dead)", "Still Waiting", "Thanks For Nothing", "No Reason", "We're All To Blame", "Moron", "The Jester", and "March of the Dogs". On the band's official "ask Sum 41" section, Cone says they prefer to think of themselves as rock.
Active Members
Edit
Former Members
Edit
Touring Members
Edit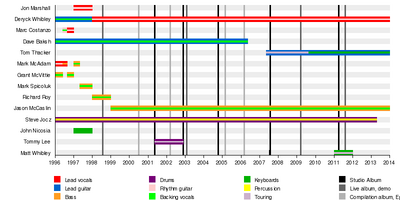 Discography
Edit
Main article: Sum 41 discography
External links
Edit
Cite error: <ref> tags exist, but no <references/> tag was found