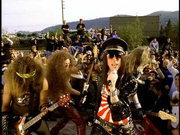 Pain For Pleasure are Sum 41's alter-ego band. Musically, their sound was closer to hair metal bands of the 1980s than Sum 41's pop-punk. With the departure of Sum 41's lead guitarist Dave Baksh in 2006, Pain for Pleasure have effectively "disbanded".
Pain for Pleasure were a hair metal band from Scotland. Their debut single came out in 1987 and went to the top of the British charts. However, not long after the single's release, the band broke up. They reunited 15 years later to play their first live show [1]
Personnel
Edit
Each member of Sum 41 had an alter-ego name for their involvement in Pain For Pleasure.
Discography
Edit
Pain For Pleasure have a release on each of Sum 41's first three releases, as well as a release on a film soundtrack.
References
Edit