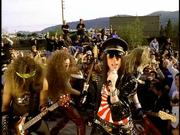 Pain For Pleasure are Sum 41's alter-ego band. Musically, their sound was closer to hair metal bands of the 1980s than Sum 41's pop-punk. With the departure of Sum 41's lead guitarist Dave Baksh in 2006, Pain for Pleasure have effectively "disbanded".
Personnel
Edit
Each member of Sum 41 had an alter-ego name for their involvement in Pain For Pleasure.
Discography
Edit
Pain For Pleasure have a release on each of Sum 41's first three releases, as well as a release on a film soundtrack.
Rock You (Helix cover) from Fubar the Movie soundtrack.
Ad blocker interference detected!
Wikia is a free-to-use site that makes money from advertising. We have a modified experience for viewers using ad blockers

Wikia is not accessible if you've made further modifications. Remove the custom ad blocker rule(s) and the page will load as expected.